It takes all types to make the world go around.
This statement couldn't be more true. And it is especially important to embrace "all types" and diversity in your workplace – if your team members were all the same, there would be no such thing as innovation or progress!
By embracing diversity, you can build an agile and effective business.
But, when you have a diverse team, you need to ensure that you have built an equally diverse workplace environment and have effective management practices in place.
Let's look at how you can do that.
The Benefits of Cultural Diversity In The Workplace
New Zealand is one of the luckiest countries in the world. Our little Aotearoa attracts people from all over the globe for a wide range of reasons. And these people from every corner of the world contribute to our workforce. It gives NZ businesses the opportunity to be incredibly culturally diverse.
Diversity covers several different aspects. In the workplace, diversity can include "race, ethnicity, age, ability, language, nationality, socioeconomic status, gender, religion, or sexual orientation." As you can imagine, such a huge range of people can have different ideas, perspectives and viewpoints that your workplace can capitalise on to do things better.
Having a culturally diverse workforce helps you to maximise skillsets, recruit and retain amazing talent, boost your team creativity and engagement, all while improving your organisation's reputation as a great place to work.
Avoiding Unconscious Bias
Despite all the benefits a culturally diverse workforce brings, unconscious bias still exists. Very closely related to stereotyping, unconscious bias is where we hold a perceived idea about a group of people that is reflected in our attitude, behaviour, decisions or treatment of them.
Basically, people have underlying beliefs that a person will behave or act in a way that is specific to the "group" we have assigned them to. For example, the belief that mothers will take a lot of time away from the workplace due to their children.
This sweeping generalisation is unconscious bias. It is a snap judgement made without considering the individual attributes of the team member. The thing about unconscious bias is that these ideas are so ingrained in society that often we aren't even aware that we are using them!
Avoiding unconscious bias is all about checking perceptions at the door and embracing the different backgrounds, thought patterns and innovations that cultural diversity can bring to your workplace. You can do this by focusing on the individuals, rather than the group you might think they belong to.
Tips For Managing A Culturally Diverse Team
Having a culturally diverse team gives you lots of opportunities for thinking outside the box. Why? Well, if you have a varied number of backgrounds in your team, it creates a broad knowledge base to pull ideas from. This could be a huge competitive advantage for your business!
However, the ability to tap into those ideas relies on the effective management of multicultural teams. Here are some tips to allow you to do that:
Don't Aim For Equality
Take a look at the below image. When you strive for equality, you assume that everyone benefits from the same support. In practicality, everyone has different needs, so different levels of support are necessary in a well-functioning business.
But rather than simply providing tailored support for each team member in a quest for Equity, look at how you can remove barriers in general. If the cause of the inequity is addressed and removed, then reactionary support is not required.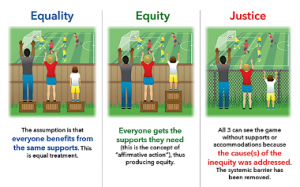 Create Awareness
One of the best ways to tap into the power of the cultural diversity in your workforce is to create awareness around it. When people are aware of cultural differences, they can problem solve ways to manage these differences and improve the cohesion of the team.
It's also helpful to emphasise the strengths that different cultures and members bring to the team, so that everyone can capitalise on them! By setting ground rules around team interactions and expectations, everyone can benefit from individual and cultural strengths.
Integrate Diversity
When people bring their differences together, real magic can happen. So, managers should create teams that have a mixture of cultures, age groups, expertise and status to allow everyone to learn from each other. Each member of a diverse team will have different knowledge and skills that can contribute to overall progress and growth.
Build Effective Communication
When multiple cultures converge, communication is a key aspect to get right. It requires empathy and compassion for those who are still learning English. And you will also need awareness around the nuances of NZ business – globally, things might be done in a different way.
Here are some ideas for building culturally diverse communication channels:
Be aware that English may be a second language for some people – they may still be learning how to understand Kiwi accents and non-verbal cues.
Adjust your management styles to accommodate different cultural dialogues to minimise the potential for conflict arising from communication. Understand that some cultures can be very direct whereas others are more subtle and implied. Everyone should have a chance to be heard regardless of their communication style.
Provide meeting topics ahead of time so that all team members can have time to prepare their contributions and ideas.
Issue clear instructions around tasks including what is involved and when they are due. Delegate these out accordingly with clear expectations on how the task should be completed.
Hire Without Bias
Obviously, you want the best talent for your team regardless of their age, culture or background. A great way to allow hiring to occur without any bias is to remove any identifying factors from the recruitment process. Let your hiring team look at an anonymous CV with an identification number, rather than one that contains personal information. That way, they can assess skills and experience without any form of unconscious bias creeping in.
Embracing Cultural Diversity
Navigating cultural diversity in the workplace is not something that you want to get wrong. So, it can be helpful to have expert assistance to call on.
Here at Spice HR we specialise in building strong teams no matter how diverse they are! Get in touch with the Spice Gals today and we can help you build a powerful and diverse team.